Online shop with exclusive Argentine leather bags, designer bags and purses for women.
At Fachera.nl you will find handmade Argentine leather goods. In our webshop we have luxury bags, shoulder bags, handbags, tote bags, crossbody bags, but also purses and wallets. All designed with style, elegance, simplicity and exclusivity. 
Buenos Aires is called the Paris of South America. The Argentine woman cares about her appearance. She follows the latest fashion trends, knows what she wants and therefore she is always well dressed. A confident and elegant woman, a true Fachera. 
Argentinian leather is considered to be one of the best types of leather in the world. It is sturdy, thick and therefore sustainable. All our products are fair and environmentally friendly made.
Fachera has a number of Argentine luxury brands in her collection such as Peter Kent, Gabriela Fiori and Los Robles Polo Time. The world-renowned leather fashion brand Peter Kent stands for color, simplicity, functionality and comfort. It uses only the most luxurious types of leather and other high quality materials. The stylish bags have classic designs with a modern twist. The leather is extremely soft and the bags are light in weight. Therefore they are very comfortable to wear. Handbag Baulito Amsterdam is the most famous bag and icon of Peter Kent. This is partly because of the Queen of The Netherlands. The brand is now known all over the world.  Fachera has the largest collection of Peter Kent bags in Europe. 
The chic handbags and shoulder bags from designer Gabriela Fiori are elegant, unique and exclusive. They have a avant-garde design and look. With natural tones and the best quality leather and materials. The bags are decorated with onyx stones, alpaca and horn accents which gives them a unique identity. Los Robles Polo Time has high quality leather goods. They are entirely handmade with Argentinean passion and craftsmanship. This brand has already proved itself in Argentina with over 70 years of experience.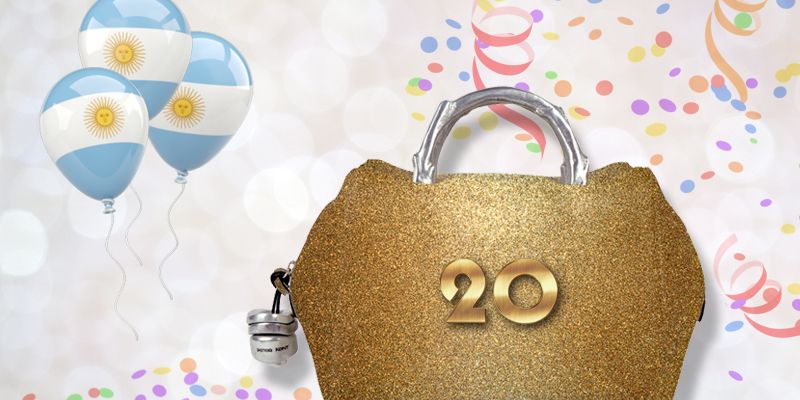 It is the anniversary of the best known and most wanted...