Check out our 8 tips for small and practical leather shoulder bags for spring.
It is spring! The sun is showing itself again and finally, the temperature is rising. That always brings freshness and something new. A new season demands new trends and therefore new bags. The nice weather makes us happy and we put on a more airy outfit. But which bag will match that? Or are you looking for something new? A trendy bag that suits today's fashion. It is time to start looking for great accessories for the most beautiful months of the year.
In this blog we show you which across bags you can wear very well in spring and during summer days.
A small across bag is ideal for all your summer activities
Are you going to have lunch with friends in the city or spend an afternoon shopping? Visiting a festival, walking in the park, a bike ride or enjoying yourself on a terrace? In other words, are you on the road for a day? Then there's no more convenient bag than a crossbody shoulder bag, the perfect companion for such activities. Of course you don't want to carry a large bag and too much stuff, but you do want to have all your necessities at hand such as your smartphone, keys, cards, money and make-up. It is also very nice to have your hands free. A must-have for the summer!
A shoulder bag like this is also perfect for the evening. Do you go out for dinner, have a date or an night out dancing? With a mini bag on your side you can complete your evening outfit. It looks very chic. The leather mini bag is hot!
If you want a small leather shoulder bag which is practical, easy and comfortable to carry, and also looks great, then a compact across bag is what you need. And not unimportantly, they are trendy!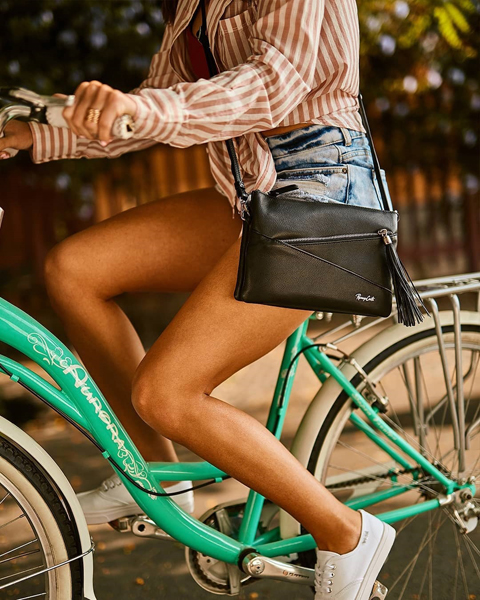 Check out this black leather across bag by Renzo Costa.
What are the latest fashion trends for across bags right now?
Fachera has minimalistic bags in its new collection, but also original designs. Studs, chains and other beautiful metal details will remain fashionable in 2018. Also very popular are the bags with decorations of flowers. This will make you look very sophisticated and feminine. The shoulder bags with lots of compartments and space for all your cards are very practical. A kind of wallet and shoulder bag in 1. We also have several bags that can be worn in 3 ways: in your hand, over your shoulders and diagonally as a crossbody bag. So you see, there are bags for different styles. Whether you're neatly dressed or wearing jeans, a mini bag always matches!
New South American luxury brand: Renzo Costa
This spring we will be the first in the Netherlands to introduce an entirely new top brand from Peru: Renzo Costa. And not just any brand. Renzo Costa is the best known and largest in the field of leather goods in Peru. They make the most beautiful leather women's bags in their country: handbags, shoulder bags, across bags, backpacks and purses. The designs of Renzo Costa are very stylish and practical. And from now on exclusive at Fachera!
Read all about premium brand Renzo Costa: Renzo Costa: the Peruvian king of leather bags and accessories.
Our selection of small and practical leather shoulder bags:
Do you like a trendy bag or do you prefer a classic one? Do you want a fashionable one, a timeless, a black, a colorful or a chic across bag? Fachera has them all.
1. Chic small across bag from Renzo Costa: Mini Piumelli
Let's introduce the Mini Piumelli to you. A gem. When you see this leather shoulder bag, you think: "Oooh wow! That's what we thought when we saw it. It is sturdy and has a chic look. Very suitable for an night out. And the nice thing about the bag is that you can wear it in no less than 3 ways. That's great, isn't it? Although it is officially a shoulder bag, you can also use it as a handbag. The beautiful metal chain can be both long and short, just what you want. Do you prefer to have your hands completely free? Wear it diagonally as a crossbody bag, easy right? A mini bag that will make you happy!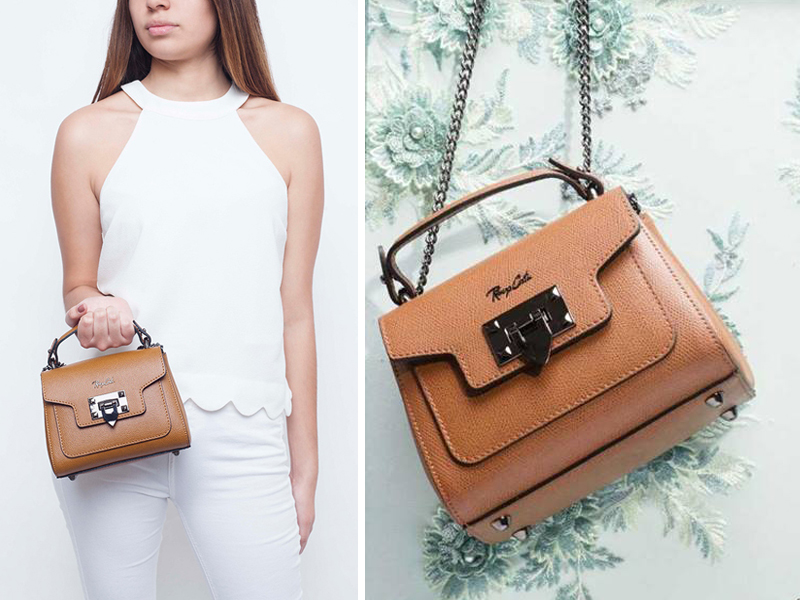 Renzo Costa shoulder bag | Mini Piumelli >>
2. Fashionable little bag with studs
Do you like a tough and cool look? Then the New Val of Renzo Costa will certainly attract attention. This is a shoulder bag with chain, trendy studs and other metal details on it. It is beautiful to combine with lots of outfits. As with the Mini Piumelli, you can double-hit the metal handle or make it long, so you can wear it crossbody as well. This trendy design has the perfect balance between tough and elegant. Show your style to the world and impress your friends!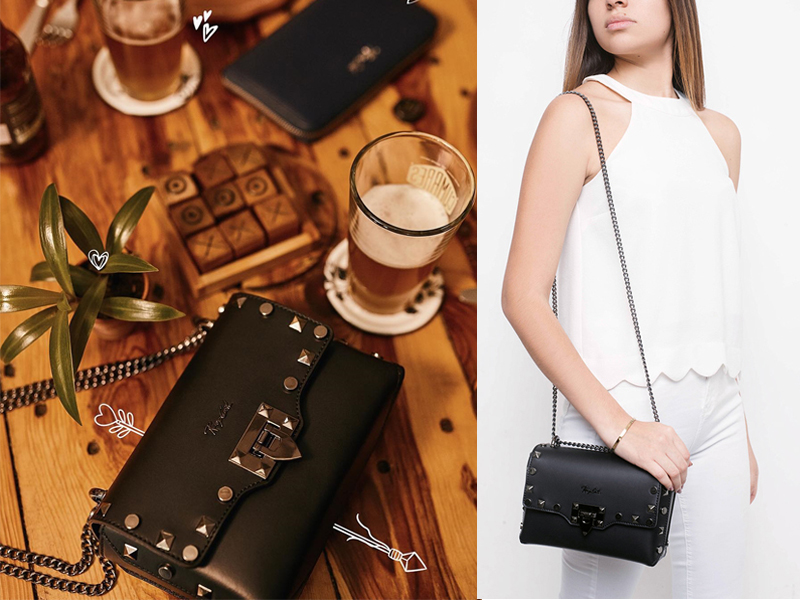 Renzo Costa shoulder bag | New Val >>
3. Ode to the woman. The flower bag, the fashion trend of this season.
Women love flowers and bags. Combine these two and you have a very nice bag for spring. And flower bags can be seen everywhere nowadays, they are very popular. This shoulder bag is from the special Delirio collection of Renzo Costa, a tribute to the beauty of flowers and women. The flap is decorated with ten leather flowers. Besides the charm of the flowers, this bag is also very functional. It is spacious and has several compartments for all your stuff. The color is very light pink, almost white. A gorgeous feminine bag. Go Delirio!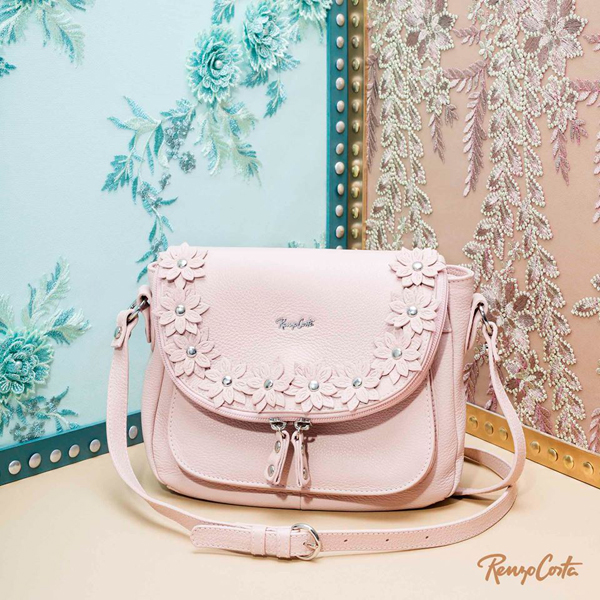 Check out this pink leather shoulder bag by Renzo Costa >>
4. A colorful summer bag with an elegant look
Free time, who doesn't like it? Wandering around in the open air in a city, in your own hometown or during your holiday abroad. Of course, you only bring the things you need at that moment. This practical leather across bag is pretty spacious. It even has a special compartment for your smartphone. It is also quite flat, so it will not "annoy" you too much when wearing it. The three colors white, red and light brown make it a cheerful bag. And yet this shoulder bag has a luxurious look. A win-win situation!
This bag is also available in the color combination white, brown and black.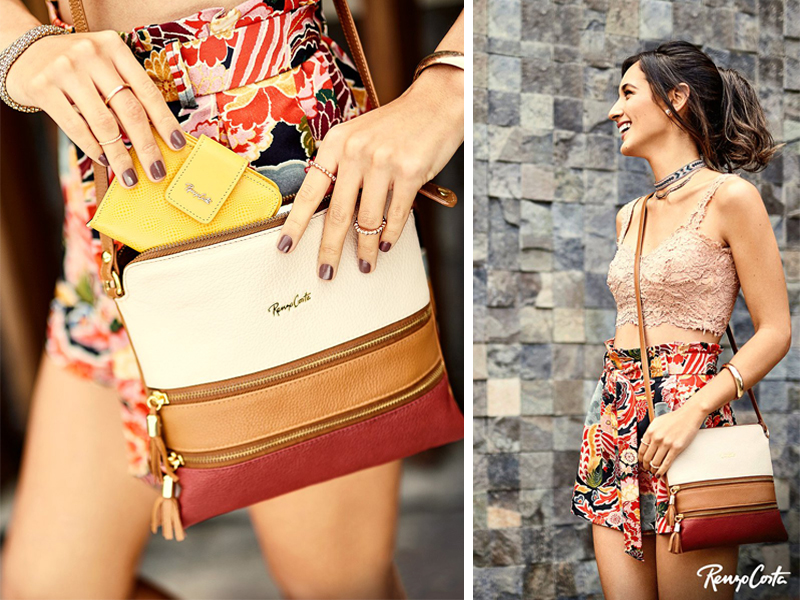 Check out this crossbody bag by Renzo Costa >>
5. A classic look. From handbag to shoulder bag in two seconds
Do you prefer a classic bag? Not too much bling bling on it, but with a chic look? The strength of Patty is simplicity. And yet it is a beautiful eye-catcher. Use the Patty as a handbag at the beginning of the evening. You don't feel like holding it in your hand all the time? No problem! Remove the handle and put the longer shoulder strap on. There you go, you have a shoulder bag! Two for the price of one.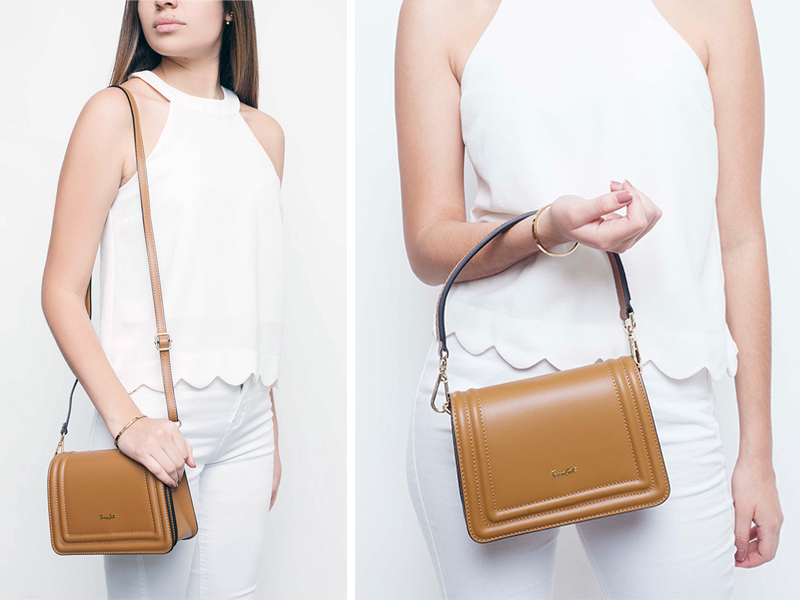 Renzo Costa shoulder bag | Patty >>
6. Multi-functional and stunning.
Perhaps one of the most popular leather shoulder bags of Renzo Costa. First of all, the look is phenomenal. The black smooth leather has a luxurious appearance. You can immediately see that it is not an ordinary bag. The metal handle and the three colored flowers complete the bag. And you have to say, flowers make you happy! In addition to its sublime design, this bag is also multi-functional. At the front is a kind of "handle". Put your hand through it from the top and you've got a clutch! Also with this bag you can make the chain short or long by double-hitting it, so you can carry it in 2 ways on your shoulders. Normal or diagonal. This trendy across bag is very stylish. This will make you look absolutely fabulous.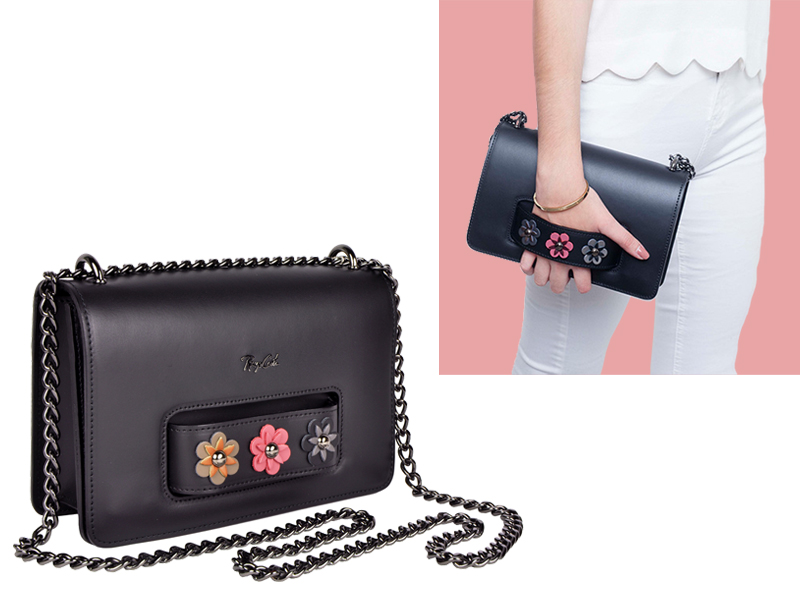 Renzo Costa shoulder bag | Adoro >>
7. Small bags with lots of space for cards
Are you a lady who has cards for everything? A supermarket bonus card, health care pass, savings cards for clothing stores, public transport card, credit card, debit card, driving licence, fuel card, ID card, business cards and so on. Your wallet bulges and only gets thicker and thicker. More and more cards and passes are being added. We have the solution for you! A small shoulder bag with lots of stitch pockets for cards. A kind of large wallet you wear around your shoulders. The jeans blue leather crossbody bag below even has space for up to 13 cards! Besides this blue one we have several other designs and colors. All made of beautiful soft leather. A functional bag for a casual look.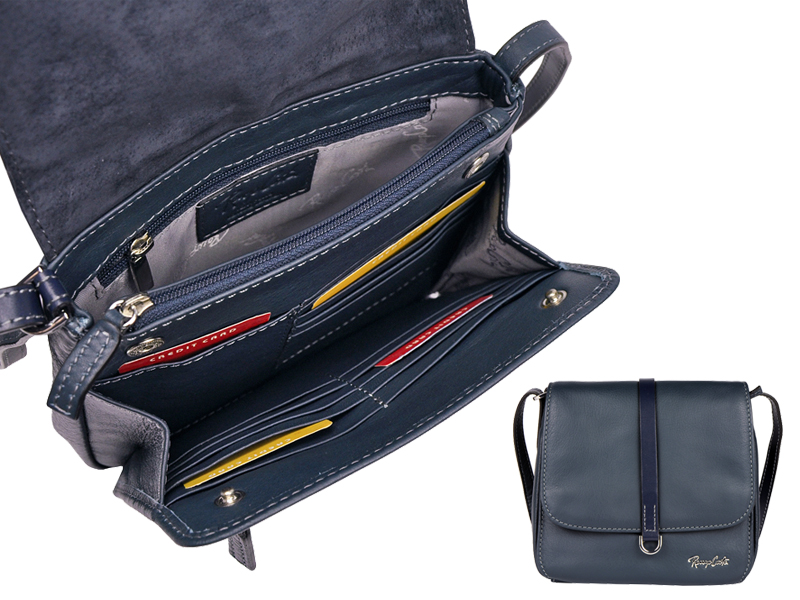 Check out this across bag by Renzo Costa >>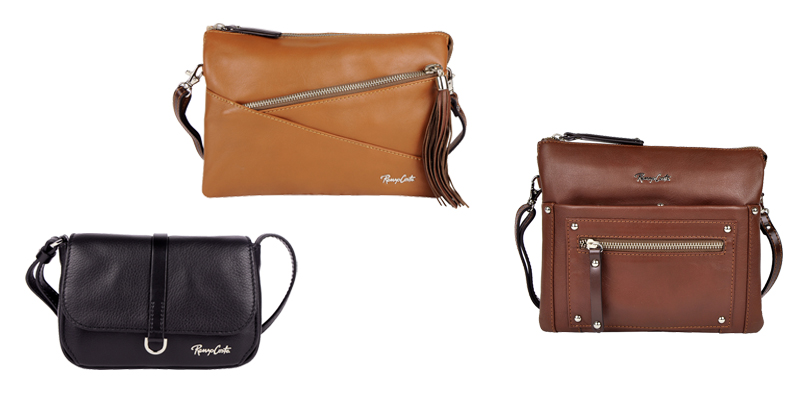 Check all across bags with stitch pockets for cards >>
8. The crossbody backpack, ever heard of?
Last but not least: a leather backpack you can wear crosswise! Of course you can also wear it as a normal backpack. But when you zip the two straps together, you suddenly have a across backpack. That is great, right? We think so.
Nowadays you can find women's backpacks made of leather everywhere. Renzo Costa has made an original design out of it. When designing the backpack, the safety has been considered. The opening is located at the back and it has a vertical zipper. So it is against your back. This way no one can put their hands into your main compartment. And that is nice when you walk in a crowded environment, isn't it?
This brown backpack is also from the Delirio collection of Renzo Costa and also available in black. It is compact and the flap is beautifully decorated with leather flowers. And yes, there are the flowers again. But that makes us very joyful!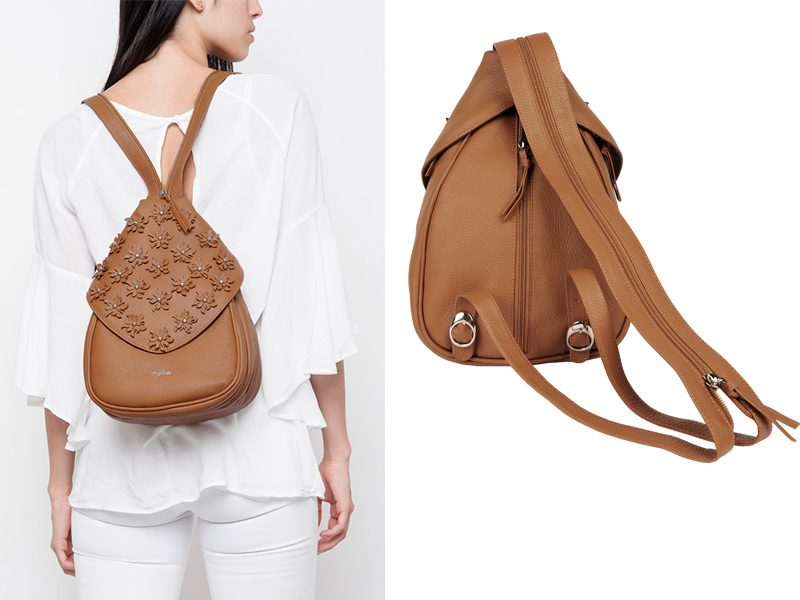 Check out this leather women's backpack by Renzo Costa >>
Are you curious about more easy-to-use bags? Take a look at all our crossbody bags. Or would you rather have a bag on your back? Then check out our ladies backpacks.
Hopefully you will now have some new inspiration to make your summer outfit complete. We wish you a very nice spring and a wonderful summer!