Queen Máxima of the Netherlands is a big fan of Peter Kent bags. Not so crazy, because many Argentines call this Argentine premium brand for luxury leather handbags, shoulder bags, across body bags and purses, is one of the most chic, luxurious and unique of the country. Peter Kent has been a well known name in the fashion world for the last 44 years. A true family business with international allure. How did it come to this?
A upscale neighbourhood in Buenos Aires.
Peter Kent is located in one of the most expensive areas of Buenos Aires in Argentina: Recoleta. This charming area is characterized by chic shops and stately buildings in European style. It is not surprising that people often call Buenos Aires "the Paris of South America". 
Salient detail: our Queen Máxima was born in the same street as where Peter Kent is located. She also grew up in this district; and years later she turns out to be a big fan of the brand Peter Kent.
Peter Kent, a true family business.
Peter Kent was established in 1972 by Héctor Neer. It is a true family business. His wife and children are also working in the company. Héctor: "My oldest son, Gustavo, is the creative director. He is a graphic and industrial designer and leads the team of designers."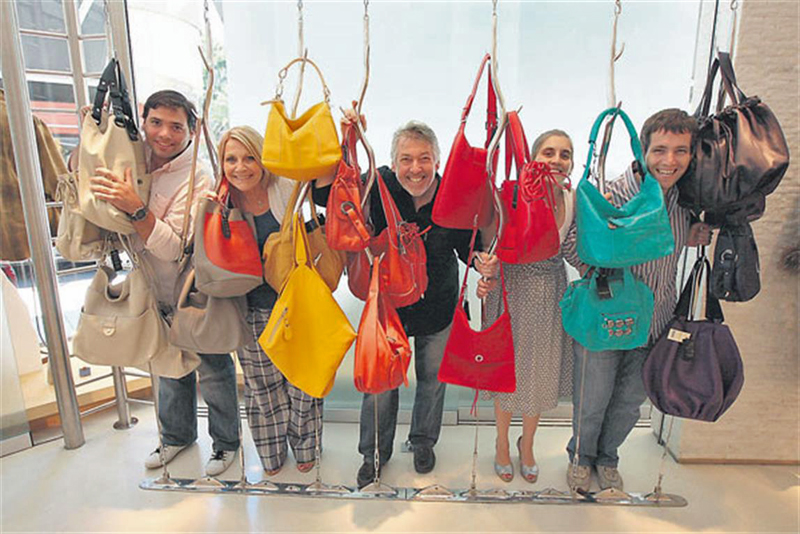 The Neer family. Héctor Neer in the middle and his son Gustavo standing left.
Where does the name Peter Kent come from?
Héctor: "In 1950 my grandmother use to take me to a shop at the Plaza San Martín in Buenos Aires. In that shop, a good friend of her, a Polish Countess, sold the best handbags of the city under the name of Peter Kent." "During the foundation of the company in the early 70's I was thinking about a name. All the nostalgic memories of those afternoons, places and smells came back to me. That's why I chose Peter Kent as the name for my business. I wanted to recreate the prestige and glamour of those times."
A known name in the fashion world.
Since then, Peter Kent is a leading Argentine brand. They sold more than a million bags. Nowadays, the company has several chic shops located in the best areas of Buenos Aires. Peter Kent is also internationally represented, among others in the United States, Canada, Central and South America and now also in the Netherlands.
Queen Máxima, a loyal fan for many years.
Queen Máxima is a big fan of the leather goods of Peter Kent. Her love for these bags started years ago. In the Netherlands she made one particular handbag very popular: the Baulito Amsterdam, an icon of Peter Kent. Several famous people wear the Baulito bag. Actresses, singers, politicians, etc. Also many bags lovers are totally in love with this special handbag.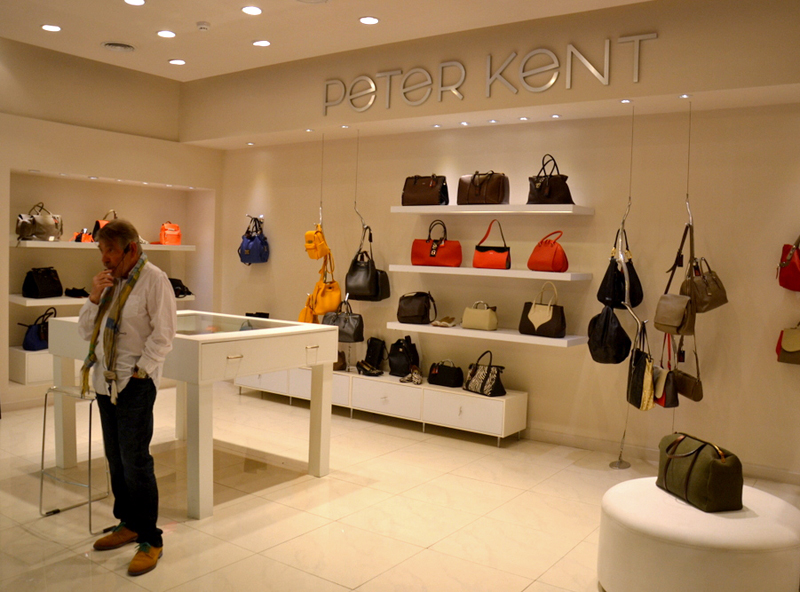 Héctor Neer in one of his stores in Buenos Aires.
What does a bag need to meet Peter Kent standards?
"I'm obsessed with the weight of the bags and the functionality," said Héctor Neer. All the bags have a special pocket for a smartphone and a keycord so you can easily find your keys. According to Héctor, a good bag is comfortable, easy and pleasant to wear. A Peter Kent bag is very light and the leather is extremely soft. A beautiful design and an exceptional quality ensure that the bag can be your partner for life.
Identity and style.
In addition to comfort and functionality Peter Kent is known for its colours, quality and simplicity. Héctor: "I like a minimalist style, 'less is more'."
After 44 years, Peter Kent is still loyal to his philosophy: clear lines, refined shapes, high-quality materials, unique and vibrant colours, top quality and traditional craftsmanship. The designs of the bags are a perfect balance of colour, shape and material. Peter Kent suits the active and dynamic woman with class and elegance. A woman who makes her own choices and knows what she wants, regardless fashion trends.
Inspiration and innovative designs.
"Our passion is to create designs which makes daily life of women easier" Héctor said. "We constantly try to innovate within our style. New designs, with new features for the modern woman." For instance, Peter Kent designed handbag 'London' with a special compartment suitable for all iPads and tablets.
Héctor: "We get our inspiration everywhere, but we also keep an eye on fashion trends. I like to go to the major fashion fairs to see what's going on at the moment. I don't only want to focus on the latest fashion, but mainly on what I want. And I love the styles of Giorgio Armani, Hermès, Jil Sander... "
Authentic craftsmanship.
The luxury leather bags by Peter Kent are produced in Argentina by experienced Argentine artisans and made of Argentine materials. Both, the interior and the exterior are completely handmade. With great care and attention. Only the best materials and the most luxurious kinds of leathers and suede are used, such as cow leather, nappa leather, calf leather, goat and lamb leather. The bags and purses of Peter Kent are of absolute top quality.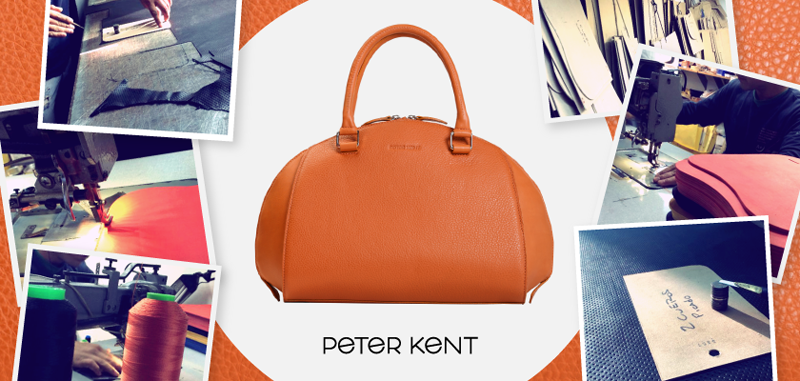 Environmentally friendly production and ecological leather.
All leather goods are produced environmentally friendly and in a fair way. The leather tanning process is vegetable tanning, this is the most natural and most environmental way without using harmful chemicals.
Strict quality control.
In addition to using the finest materials and leathers, all leather handbags and purses undergo a strict total quality control process. All materials are double checked. Before the bags arrive in the stores and webshops, they are tested one by one manually and checked in every detail. At Peter Kent, quality goes above all.
Largest Peter Kent assortment of Europe at Fachera.nl!
Fachera has the largest collection of Peter Kent bags and accessories in the Netherlands and even in the whole of Europe. Curious about the many colours and models? Click here: Peter Kent